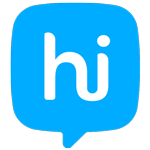 Technical Information of Hike Application
| | |
| --- | --- |
| Application | Hike |
| Author | Kavin Bharti Mittal |
| Headquarters | New Delhi, India |
| Developer | Hike private limited |
| Initially Released on | December 2012 |
| Android stable version | 6.3.23 |
| Android stable version released on | June 26, 2020 |
| iOS stable version | 16.2.210 |
| iOS stable version released on | March 23, 2020 |
| Languages used | C++, Java, Objective C, Swift, React Native, Javascript, HTML, Python, Golang, Node.js |
| Compatible OS | Android, iOS, Windows phone, web app, blackberry OS, Symbian S60 |
| Platform | ARM, x86/x86-64 |
| Avaialble in | 10 languages |
| Type | Instant messaging |
| License | Freeware |
| Website | Hike. in |
| Size for android | 38.06 MB |
| Required android | 4.4 and above |
| Size for iOS | 466.4 MB |
| Compatible iOS | iOS 11.0 and above, iphone,ipad, ipod touch |
| Available Languages | English, French, German, Portuguese, Russian, Spanish |
| Age rating | 12+ |
| In-app purchase | HikeStar |
Information about Hike Application:
The Hike application Birthplace is from India, and Destination place is worldwide. Yes, Hike is one of the trending applications in the entire world with its uniqueness and flawless features. More than a million permanent users are enjoying the application features.
The team of Hike application working with heart and soul determination to give the best output to the users. Since it is the first messaging application from India, always 24*7, it works hard on reaching the top place in the social media platform.
Pros of Hike Application:
It is the first messaging application from India
Genuine support for both National and International wide
It has very use full features like Hike Run
It gives rewards and notifications
It provides free coupons and best offers from the best brands to the users
It provides with right security settings with chat and conversations
A rare, unique feature is sending messages in offline mode
Hike helps in sending any file formats like documents, PDF's and APK files.
Cons of Hike Application:
It could perfect application if Video calling feature is also present along with many features
Though Hike has a feature Security, still the users feel insecurities while using. They are suggested by many users to rectify.
Every user supposed to agree to the terms and conditions which mentioned user cookies can do whatever they want. It is ultimately the user's responsibility to maintain security.
Yes, every social media platform asks for the cookies, means that doesn't mean users should not use the social media platform. There are limitations for every work you do on platforms like Hike.
Benefits of Hike Application:
Before using the application, the candidate who wanted to use Hike application must know some benefits in Hike. Below are some essential features to understand well by the candidate.
Auto Backup:
The user need not to worry about their previous chats if mobile replaced with new mobile or any other issue regarding the assumption of losing all the conversations and contacts in Hike application. Good news for users that in case of any situations, user login with the same account from the Hike settings click on the Auto Backup button to retrieve entire lost information.
Web Option:
If in case the user wanted to spend his/ her Hike application in PC's or Laptops by using the option called Web. Once the user connects with Web option from Hike settings. User can also enjoy by conversation through this option. It is another best benefit for the user.
Privacy Mode for Chats:
Nowadays, users or people looking forward to Privacy in every step they move. Since the Privacy matters a lot, the Hike also providing the feature of Security mode for Chats and conversations.
Texting By Using Stickers Along with Typing:
It is crucial to know every user that the Hike Application platform initially launches the concept of Stickers. Instead of texting with typical conversation daily try with Stickers and have and a lovely chat.
In more than 40 languages the Sticker chats are available within the application. Stickers make more attractable than typing. Not yet tried till now, have a trail and feel the experience.
Hike Run:
Once the user enables this option, it auto counts every step tapped by the user in the whole day and telecast to user's Hike friends.
This option also maintains a record regarding user improvement and feedback daily. It will appear only for the user.